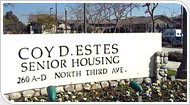 Upland, CA 91786
P: (909) 981-7160
Expansion
Future Developments
The future development will be a single-resident occupancy (SRO) community that offers 72 units of much needed low income senior housing and 16,825 sq.ft. of community space. The property's craftsman-style architecture is designed to seamlessly integrate into the surrounding neighborhood.
Solar Project
The proposed solar project will support clean energy and efficiency for low income residents of Coy D. Estes as well as future developments.
New Offerings
72 low income one bedroom senior apartments

Full Service Kitchen

Dining Facility
On-site leasing/manager office
3 Laundry Rooms

Chairman of the Board-Richard Anderson, Esq.
Richard Anderson is a founding member and Chairman of the Upland Community Housing, Inc. Board of Directors, in operation since 1994.
During his time in Upland, he has been involved in the community, including four years as Mayor (1984-1988), seven years on the Board of Directors for Casa Colina Hospital, (3 years as Chairman), nineteen years on the Board of Trustees of San Antonio Community Hospital (5 years as Chairman). Richard Anderson has also been on the Board of Directors for the Boys and Girls Club, Y.M.C.A., a twenty-five year member of the Kiwanis Club of Upland, a Group Study Exchange Team member for Rotary International, past member and Chairman of the Board of Directors for Upland Housing Authority and involved in numerous other civic groups and projects.
Asset/Operations Management-Tanya Burdick
Tanya Burdick is our asset manager. She is responsible for overseeing our projects on a day to day bases and for compliance with agencies such as California Tax Credit Allocation Committee, Edison as an investment partner, Upland Housing Authority, California Housing Finance Agency, U.S Department of Housing and Urban Development and well as the Real Estate Assessment Center. Tanya holds a Site Compliance Specialist Designation as well as National Compliance Professional Credentials and Housing Certified Professional from the National Association of Home Builders. Tanya oversees all accounting functions including the creation and implementation of the budget and capitol planning.
Project Manager - Martin Thouvenell
As Project Manager Mr. Thouvenells' responsibilities include property acquisition, development, vendor management, developing and maintaining project budgets and coordination and oversight of construction through to lease-up. Mr. Thouvenell has years of experience in the real estate development industry.
He has been involved with Coy D. Estes Senior Housing for many years.Taking the role of Project Manager during the major overhaul of the exterior and interior of Coy D. Estes bringing it to the high standard of excellence in senior living that you see today. He has always been very involved in the Upland community. Including 10 years as Chief of Police (1998-2008). Positions held for the City of Upland include City Manager, Fire Chief and Parks and Recreation Director. He also served 9 years on the Board of Trustees of San Antonio Community Hospital (1996-2005), and is a past member of the Board of Directors for Upland Housing Authority.
Financial Consultant - Steve Dukett
Steve Dukett is the Expansion Project's Financial Consultant. He is a Managing Principal with the firm of Urban Futures, Inc. ("UFI") and specializes in planning, structuring, financing and implementing affordable housing, economic and community development, asset management, public facility, public infrastructure, and public grant and loan programs for local government entities and non-profit corporations. UFI is a full service financial advisory and management consulting firm that has served cities, counties, redevelopment agencies, school districts, water districts, private higher education, special districts and non-profit corporations since 1972.
During 2007, Mr. Dukett joined UFI after 34 years of public sector experience during which he held a variety of professional, management and executive positions for county and city governments. This included serving as an acting City Manager for one of his city assignments and as the Redevelopment and Housing Programs Department Head with the City of Upland for nine years. While in Upland service, Mr. Dukett was a member of the working group that initiated the concept of the Expansion Project and helped arrange for financial assistance from Upland for the Project.
During his time in both the public and private sectors, Mr. Dukett has managed a wide-variety of public and private development projects with combined values exceeding $1 billion. This has included a multitude of affordable housing projects and programs, inclusive the development and renovation of multi-family housing projects involving tax credits, private activity bonds, federal loan and grant programs, redevelopment funding and related funding sources.
His background and skill-sets enables him to provide an uncommon level of practical insight with respect to best practices in his areas of expertise. Moreover, his prior involvement in helping to conceptualize the Expansion Project together with his knowledge of available funding sources makes him a valuable member of the Expansion Project DevelopmentTeam.
Assistant Operations Manager - Tiffany Harms
Tiffany Harms is our Assistant Operations Manager. . Tiffany is the first face the public sees when inquiring about low income housing at Coy D. Estes and has extensive knowledge of all financing layers which enable her to effectively help Coy D. Estes stay in compliance with all federal agencies and support the Asset/Operations Manager.